Hardscratch Press

Jackie Pels,
editor/publisher
658 Francisco Ct.
Walnut Creek, CA
94598-2213
phone/fax
925/935-3422
email: jrbpels@
hardscratchpress
.com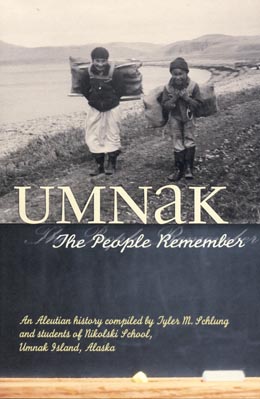 Umnak: The People Remember

An Aleutian history compiled by Tyler M. Schlung and
students of Nikolski School, Umnak Island, Alaska

ISBN: 0-9678989-4-3. LCN: 2002117860.
164 pages, 5-1/4x8, index, bibliography, many photographs. $16.50.
Literary Merit award, 2003 Bumbershoot Bookfair.

All proceeds go to the Museum of the Aleutians.

"There are tragic chapters here, stories of betrayal and loss. The fatal wreck of the Umnak Native. The little-known saga of forced evacuation and a heartbreaking return in World War II. But there are also the clear voices of the village children, the hope of all. 'If you are going to live off the land,' two young boys write, 'working together is important.'" – From the back cover.

[home] [any tonnage] [bridging] [circuses] [cuando] [familyvol1] [familyvol2] [finfur] [gilbert] [homesteaders] [journey] [kachemak] [mcml] [miner] [umnak] [unga]