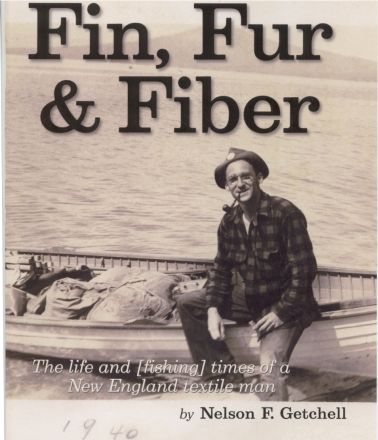 Fin, Fur & Fiber
The life and [fishing] times of a New England textile man
By Nelson F. Getchell

ISBN: 0-9678989-6-X / ISBN: 978-0-9678989-6-4
336 pages, 6x9, many photographs, index. $24.

From Chapter Eight, titled "Martha," a confirmed fisherman's recollection of a romantic outing: "On our very first date in early April [1941] I took Martha smelt fishing at Little Ossipee Lake, where the ice was starting to melt. ... Along with several others we gathered that moonlit night on a sandy beach at lakeside near the mouth of a little fast-flowing, shallow stream. With ice still on the lake and some snow still in the woods, it was quite cool, so we built a bonfire around which we gathered to keep warm. In our hip boots we waited until someone checked the stream and yelled, 'Fish are up!' whereupon we all rushed into the water knee-deep and, using flashlights, looked for fish. There they were by the hundreds around our feet. With sleeves rolled up everyone gathered as many fish as possible, putting them in a one-quart can as they were gathered. After a few minutes of this frantic effort the fish are spooked, and they turn and run back to the lake. So we fishers would return to the bonfire and wait for the fish to forget their worry and return again to spawning. ..."

[home] [any tonnage] [bridging] [circuses] [cuando] [familyvol1] [familyvol2] [finfur] [gilbert] [homesteaders] [journey] [kachemak] [mcml] [miner] [umnak] [unga]