Hardscratch Press

Jackie Pels,
editor/publisher
658 Francisco Ct.
Walnut Creek, CA
94598-2213
phone/fax
925/935-3422
email: jrbpels@
hardscratchpress
.com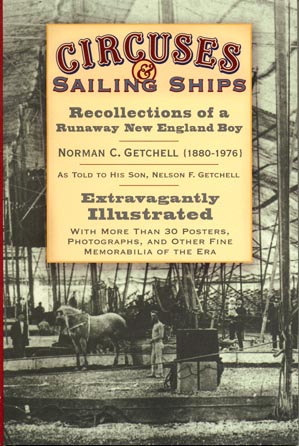 Circuses & Sailing Ships:
Recollections of a Runaway New England Boy
Norman C. Getchell (1880-1976),
as told to his son, Nelson F. Getchell

ISBN: 0-9678989-0-0. LCN: 00-091207.
88 pages, 6x9, bibliography, "extravagantly illustrated." $14.50
American Library Association nominee.

"Among other adventures, this turn-of-the-19th-century teenage boy was run out of town behind a club-wielding elephant, survived a fiery shipwreck and a week adrift in the south Atlantic, and lived for a season on an exotic island in the Indian Ocean. During all this period his family in Maine had no idea where he was, and he didn't contact them until he was a grown man, after a bizarre brush with death in New York City." – From the Introduction.

[home] [any tonnage] [bridging] [circuses] [cuando] [familyvol1] [familyvol2] [finfur] [gilbert] [homesteaders] [journey] [kachemak] [mcml] [miner] [umnak] [unga]