Hardscratch Press
Jackie Pels
editor/publisher
2358 Banbury Pl.
Walnut Creek, CA
94598-2347

phone/fax
925/935-3422
email: jrbpels@
hardscratchpress
.com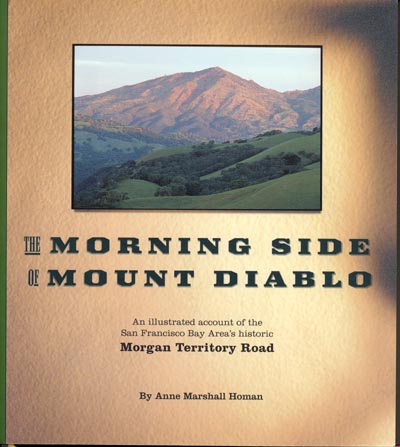 The Morning Side of Mount Diablo
An illustrated account of the San Francisco Bay Area's historic
Morgan Territory Road

By Anne Marshall Homan

ISBN: 0-9678989-2-7. LCN: 2001131402.
256 pages, 8x9, chapter end-notes, bibliography, many photographs,
index of names, general index. Second printing. $28.50.
"Best offset design," 2001 Bumbershoot Bookfair.

"A wonderful book about the people who lived and
are still living on our mountain." – Gary Bogue, Contra Costa Times.